Comparing Rubber vs Leather Car Floor Mats
Rubber vs. Leather: What's the Best Choice for Car Floor Mats?
Car floor mats often go unnoticed, but they play a crucial role in protecting your vehicle's interior. This article will help you understand the pros and cons of rubber and leather car floor mats, with a special emphasis on the exceptional quality offered by Toughmats.
Rubber Car Floor Mats: The Strengths and Challenges
Understanding the Weather Tech Advantage

Rubber car floor mats have gained a reputation for their durability and protection. They are built to withstand harsh weather conditions, ranging from blistering heat to heavy rain. Leading brands like Weather Tech have become specialists in producing robust rubber mats that can endure the rigors of daily use. If you're looking for mats that can handle challenging situations, rubber can be a dependable option.
Disadvantages of Rubber Car Mats:
Fading with Water Exposure: Rubber car mats are susceptible to fading when exposed to water and UV rays, which can make them look worn out over time.
Cracking and Hardening: In extreme temperatures, rubber car mats can crack and harden, reducing their flexibility and longevity.
Odor Retention: Rubber mats tend to retain odors, especially if they come into contact with spilled liquids or pet-related messes.
Minimal Style and Aesthetics: Rubber mats often lack the style and elegance that some car owners seek to enhance their vehicle's interior.
However, it's essential to recognize that while rubber mats have their merits, they also come with their set of limitations. In the following sections, we'll explore these shortcomings while presenting alternatives that offer even more advantages.
Leather Carpet Car Floor Mats: Comfort and Style
Carpet car floor mats, on the other hand, prioritize comfort and style. They provide a soft and luxurious feel underfoot and are often preferred for their aesthetic appeal. Brands like Floor Car Mats offer a wide range of carpet options, allowing you to match your car's interior perfectly.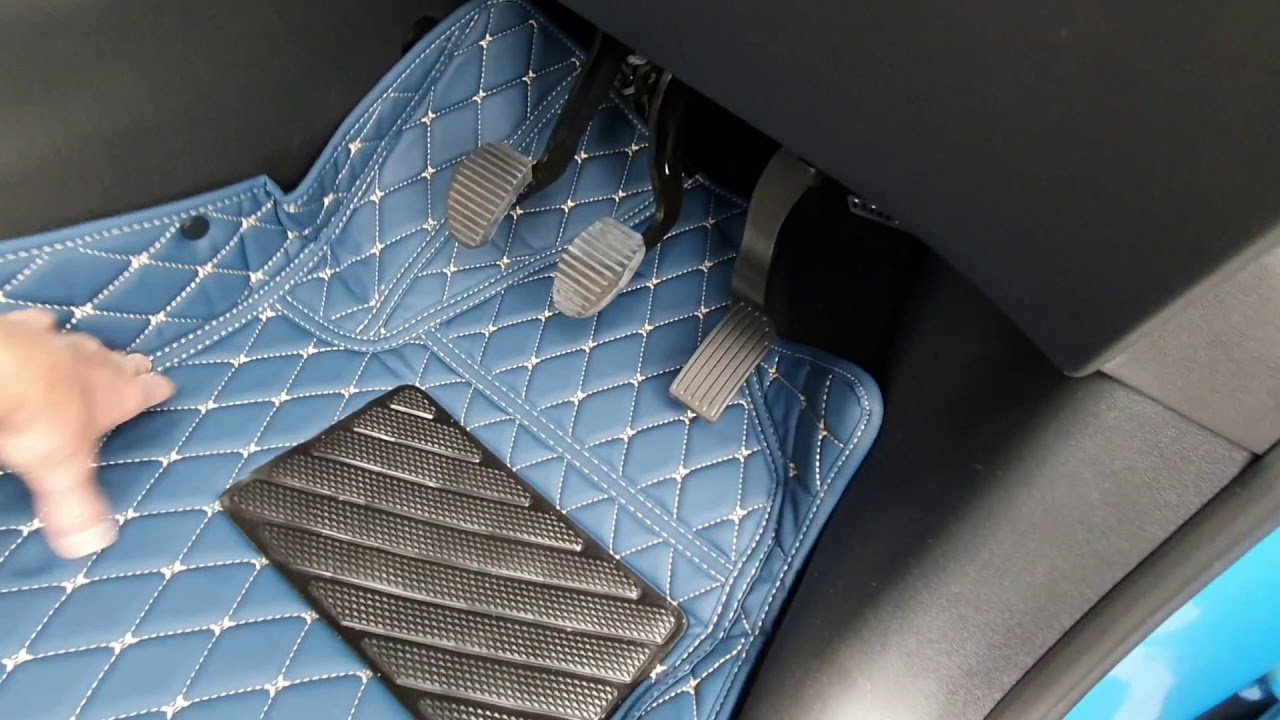 Advantages of Leather Toughmats:
Resilience in All Weather Conditions: Leather Toughmats have shown exceptional resilience in various weather conditions, from scorching heat to freezing cold. Customers appreciate that their mats maintain their quality and appearance regardless of the climate.
Long-Lasting Durability: Many customers have praised Toughmats for their durability. They find that these leather mats outlast rubber alternatives, even in high-traffic areas of the car.
Odor Resistance: Leather Toughmats do not retain odors, making them a preferable choice for those concerned about maintaining a fresh and pleasant-smelling interior.
Luxurious Style: Car owners who choose leather Toughmats often mention the luxurious and elegant style they add to their vehicles. These mats are seen as an upgrade that enhances the overall aesthetic appeal of the car's interior.
The Custom Car Mats Experience in the UK
In the UK, custom car mats are a popular choice for drivers who want a personalized touch. Custom car mats UK companies offer a wide range of options, allowing you to choose the material, color, and even add personalized logos or text. This level of customization ensures that your car mats match your style and preferences.
Why Leather Toughmats Trump All
Now, let's dive into why leather Toughmats are the superior choice for your car's interior protection.
Premium Quality: The Toughmats Difference
Superior Craftsmanship
Toughmats are synonymous with premium quality and superior craftsmanship. Each mat is meticulously handcrafted using high-grade leather that not only looks elegant but also lasts longer. The attention to detail is unmatched, ensuring you receive a product that meets the highest standards.
All-Weather Performance
Protection in Every Season
One of the standout features of leather Toughmats is their all-weather performance. They excel in both extreme heat and cold, offering year-round protection for your car's floor. While rubber mats can endure harsh conditions, leather Toughmats combine durability with an air of sophistication that rubber mats cannot match.
Luxury and Style
Car Mats with Class
The luxury and style provided by leather Toughmats are unrivaled. They add a touch of class to your car's interior, making it a statement of sophistication. Comparing leather Toughmats to carpet mats, it's evident that leather is not only more luxurious but also easier to clean and maintain.
Making the Right Choice for Your Car
In conclusion, the choice of car floor mats depends on your individual preferences and needs. Rubber mats excel in protection, carpet mats prioritize comfort and style, while leather Toughmats offer the best of both worlds – top-notch protection and a touch of luxury.
When considering car floor mats, it's important to think about the long-term investment. Leather Toughmats may cost a bit more upfront, but their durability, all-weather performance, and timeless style make them a clear winner. Choose Toughmats for a car interior that exudes luxury, class, and protection.
For more information on Toughmats products and to explore custom options, visit our website.
This detailed article provides an in-depth comparison of rubber, carpet, and leather car floor mats while highlighting the exceptional qualities of leather Toughmats. It balances the pros and cons of each type and guides readers toward making an informed choice for their car's floor protection needs.
Additional Information
To help you make an even more informed decision, here's some additional information about Toughmats and their leather car floor mats:
Superior Features of Toughmats Leather Car Floor Mats
1. Precision Fit: Toughmats are tailor-made for your car's specific make and model, ensuring a perfect fit that covers every nook and cranny of your vehicle's floor. This precision fit offers superior coverage and protection compared to generic mats.
2. Easy to Clean: Unlike carpet mats that can trap dirt and stains, leather Toughmats are a breeze to clean. Just wipe them down, and they look as good as new. This hassle-free maintenance is a major advantage for busy car owners.
3. Non-Slip Backing: Toughmats come equipped with a non-slip backing, ensuring they stay in place even during sharp turns or sudden stops. This feature not only enhances safety but also prevents the mats from sliding under the pedals.
4. Eco-Friendly: Toughmats are committed to sustainability. Their leather is sourced responsibly, and their manufacturing process adheres to eco-friendly standards. Choosing Toughmats is not only a decision for quality but also for the environment.
Customer Reviews and Testimonials
Don't just take our word for it; here are some insights from satisfied Toughmats customers:
Samantha L., London: "I've tried rubber and carpet mats before, but they couldn't match the elegance of Toughmats leather mats. They've transformed the look of my car's interior, and I'm impressed with their durability."
Mark T., Birmingham: "Living in the UK, I needed mats that could handle our unpredictable weather. Toughmats have been a lifesaver. They don't just protect my car; they elevate its style."
Sarah P., Manchester: "I love the personalization options from Toughmats. My car mats are now a reflection of my style, and I get compliments on them all the time."
Explore Toughmats Today
If you're ready to make the smart choice for your car's interior, consider Toughmats. You can explore their full range of leather car floor mats, including custom options, on their website. They offer a hassle-free ordering process and exceptional customer service to ensure you get the perfect mats for your vehicle.
Invest in quality, protection, and style with Toughmats. Your car deserves the best.
Black Edition
Conclusion
In the world of car floor mats, the choice is ultimately yours. Rubber and carpet mats have their merits, but when it comes to long-term durability, style, and overall quality, leather Toughmats outshine the competition.
Your car is more than just a means of transportation; it's an extension of your personality and style. Enhance that expression with Toughmats' leather car floor mats. They offer protection and luxury, combining the best of both worlds for car enthusiasts who demand the highest standards.
Make the right choice for your car today, and experience the difference that Toughmats can bring to your driving experience. Your car, and your feet, will thank you for it.